HomeSlice: A Slice of Durango
When if comes to satisfying all of your cravings for a delicious hot pizza, you might think of New York or Chicago style as your go to. You'd be surprised that Durango, CO has one of the best pizza places that combines both styles to give you the most enjoyable pizzas. HomeSlice Pizza has a large range of hot pies and toppings for every possible combination you can think of. If you're looking for something else than pizza, HomeSlice also serves all types of salads, sandwiches, and garlic breads. There is also an open bar for those 21+ looking to watch the game or catch up with friends.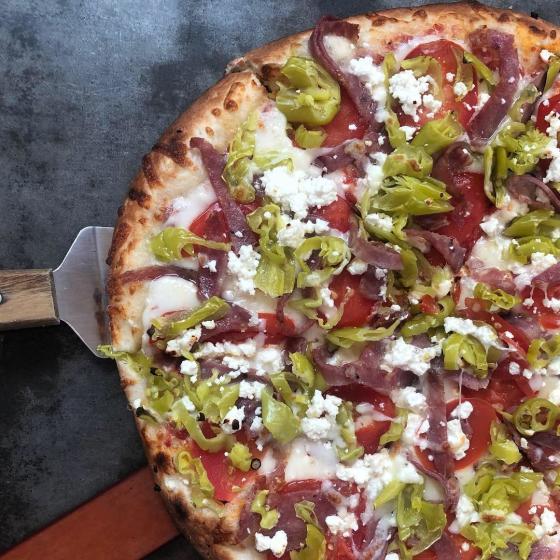 Back in 2002, a man by the name of Cory Kitch, his brother Gabe Kitch, and nutrition expert Lynn Kitch came up with the idea to start a pizza company. They wanted something that would settle the war between Chicago pizza and New York pizza that could also be helpful in stopping the emissions in burning fossil fuels. After the three creators came up with their plans, they started their long journey of making their dream a reality. By recycling, using sustainable packaging, and buying  local products, they were able to cut down on their use of plastics causing them to be very eco-friendly unlike many other pizza parlors across America. This makes them a very obvious choice when it comes to dining out for locals and travelers alike.
        In the town of Durango, there are three different locations of HomeSlice for you to choose from. Each one offers the same range of pizzas, salads, and drinks so you really can't go wrong. There is one on College Drive, one on North Main, and one on Three Springs. There is also have a delivery option coming from any of the three parlors if you'd like to stay home.
        "My favorite thing about HomeSlice is the people" says Chase Noonan, a staff member of HomeSlice and Soaring Tree Top Adventures zipline. "I love how lively everyone is and how you can tell that everyone really wants to be there."
By: Keira Beggrow – 6/8/23